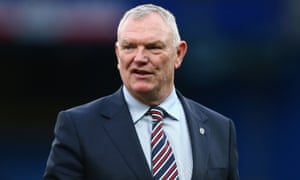 The chairman of the Football Association, Greg Clarke, has claimed Mark Sampson should have been sacked as manager of the England women's team "three or four years ago" and defended the governing body's handling of the controversy surrounding the 34-year-old.
Sampson was dismissed last month over safeguarding allegations relating to his time as manager of Bristol Academy. The timing of the decision has been deemed convenient by some observers given the accusations of racism made against him by the former England striker Eni Aluko and her Chelsea team-mate Drew Spence and of a subsequent cover-up by those at the top of English football, with Clarke in the firing line alongside the FA's chief executive, Martin Glenn, and technical director, Dan Ashworth.
Their case is not helped by the fact the allegations regarding Sampson's time at Bristol were first made in March 2014 and Glenn has admitted to being first told of the investigation in October 2015, but Clarke insists nothing untoward has occurred and that he for one would have acted sooner had he been in a position to do so. The former Football League chairman joined the FA 12 months ago.
"When you get to the point where the new chairman and the new chief executive find out something that wasn't shared with the board a long time ago, do you think, 'That's a shame, we'd have done something if we'd known', or do you make a decision?" Clarke said in an interview with the Daily Telegraph. "Martin [Glenn] said, 'Look, I found this out yesterday.' I said, 'Right, what do you think?' He told me, I agreed with him and we had a board conference call.
"We asked some questions about legalities, facts, what happened when. And we made a decision. That's the sort of decision that should have been made three or four years ago but you can't use that as an excuse to duck the decision today."
Sampson was cleared by an internal FA investigation, as well as an independent inquiry, overseen by the barrister Katharine Newton, of bullying and harassment claims made against him by Aluko and during the China Cup in 2015 of asking a mixed-race player, subsequently revealed to be Spence, how many times she had been arrested.
Sampson denies all accusations against him, including Aluko's claim that the Welshman told the striker to make sure her family did not bring Ebola with them from Nigeria before England played Germany in November 2014. But the FA has now resumed its internal inquiry into the Aluko case and is also giving serious consideration to launching a fresh investigation into Sampson after Spence came forward.
Clarke, who will face the Digital, Culture, Media and Sport select committee on 18 October alongside Glenn and Ashworth to discuss the Sampson cases, is insistent that Aluko's and Spence's accusations have not been taken lightly by the FA, despite the criticism that has come the organisation's way, with Aluko describing the initial inquiries as a farce and the PFA calling them "a sham … intended to protect Mark Sampson".
Clarke said: "If there are issues, we want people to raise them. But there are the rights of the people who feel aggrieved and the rights of the people who've been accused.
"We had an internal investigation, which came to a simple conclusion. Our barrister is now collecting more evidence. If the conclusions stay the same – fine. If they differ – fine. All we want is to get to the bottom of it."