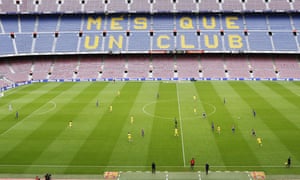 At every Camp Nou game for almost six years now, chants for Catalan independence have gone up when the clock reaches 17 minutes and 14 seconds, commemorating the year the city fell to Felipe V, but not this time – not on the day they were perhaps closer to independence than ever before. This time, Europe's largest stadium was silent. No fans could be heard, only footballers. Occasionally, the referee's whistle rang out or somebody clapped yet there were no chants, no songs and no one to sing them. At the side of the pitch where Barcelona played Las Palmas, stewards in orange bibs lined up to keep an eye on stands that had no one in them. Ninety-eight thousand seats sat empty; barely a couple of hundred people were there, and many of those wished they weren't.
It was late Sunday morning when Barcelona's international defender Gerard Piqué voted in the referendum on independence called by the Catalan government and declared illegal by the Spanish government and the constitutional courts. He, like many others, had insisted he would vote anyway so he had done, shaking hands with staff at the polling station, smiling and setting off for the stadium. But while that scene was repeated in many places it wasn't the case everywhere and by the time he left the Camp Nou seven hours later, there were tears in his eyes. So much had happened and so much more could still happen, a future uncertain and scary. Barcelona had won 3-0 but Piqué called it the worst day of his career and the worst thing the state had done in 50 years.
"The images speak for themselves," he said. They had gone around the world: pictures of violence and pictures of the stadium, surreal and still, gates closed in protest, fans standing outside looking through the bars as the match was played before a television audience of millions and an actual audience of substitutes, coaches, physios, cameramen, journalists and stadium staff. "Strange," Sergio Busquets called it. Symbolic too – which this game was always likely to be, just not like this.
They say sport and politics shouldn't mix, by which they tend to mean other people's politics. It's a line Spain's secretary of state for sport has used, and one Espanyol manager Quique Sánchez Flores repeated on Sunday night after his side were defeated 2-0 at the Bernabéu, where the 12th minute saw Spain flags unfurled and a rendition of Y Viva España in response to the referendum. "I'm not going to mix politics or sport or take part in this show," he said, but sport and politics do mix, especially with Barcelona, who the Marxist writer Manuel Vázquez Montalbán described as the "symbolic unarmed army of Catalonia".
That identification with Catalonia, while nuanced, shifting, unevenly embraced, sometimes vague and often problematic, is part of what gives Barça an explicitly socio-political dimension. It comes together, of course, in the slogan: mes que un club, more than a club. And that meant this was always going to be more than a match even if in the end it was less than one.